News

---
Tips for Returning to Business Travel
Selective Travel Management's tips for returning to travel post-covid
As a result of the pandemic, travel may seem more complicated with rules for travelling responsibly varying from country to country and changing on a daily basis. As a business, you should ensure your travellers are ready to encounter the many different rules and requirements on their journey.
As a traveller, we recommend you educate yourself on what to expect when travelling, how to travel by the rules, and how to prove you have a negative COVID-19 test. Being prepared for your business trip in advance will help put your mind at ease and ensure your health and safety during your trip.
Things to consider when returning to travel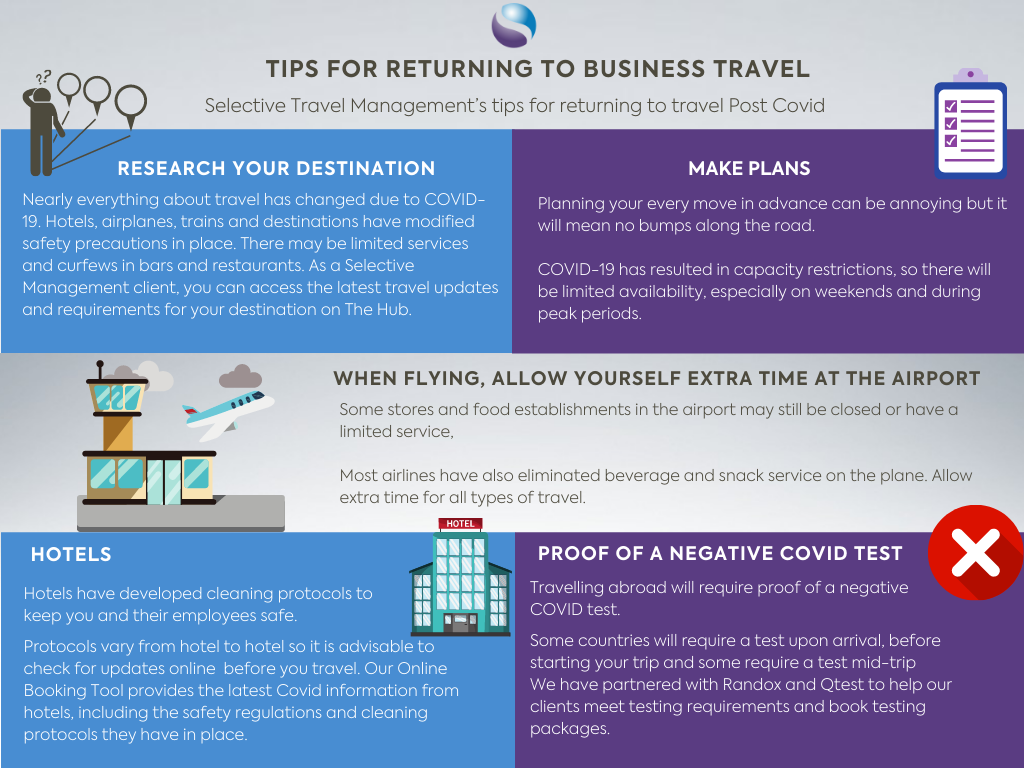 Research your Destination
Before you book your trip, be sure to understand how covid has changed the experience. Nearly everything about travel has changed due to the pandemic. Hotels, airplanes, trains and destinations all have modified safety precautions in place. There may be limited services such as curfews in bars or restaurants closing early in certain locations. It is always good to check this information in advance, so you know what to expect. As a Selective Management client, you can access the latest travel updates and requirements for your destination on The Hub.
Make Plans
Before leaving for your trip, you should make bookings for places you would like to visit, especially restaurant reservations if you need to eat out. Covid has resulted in capacity restrictions and there may be limited availability, especially on weekends and during peak periods. Planning your every move in advance may seem tiresome, but it will mean no bumps along the road on your journey. It is always better to be prepared in case you want to do something extra on your business trip.
Allow Extra Time at the Airport
Many stores and food establishments in the airport may still be closed or have limited service, so it may take longer to buy food and drink. Most airlines have also eliminated beverage and food services onboard, so it is a good idea to bring your own with you. Allow extra time for all types of travel just in case there are extra security checks or precautions as part of your journey.
Hotels
Hotels have developed cleaning protocols to keep you and their employees safe. These protocols will vary from hotel to hotel, so we recommend having a browse online for notices and procedures before you travel. Our Online Booking Tool provides the latest covid information from hotels including the safety regulations and cleaning protocols they have in place.
Proof of a Negative COVID-19 Test
Travelling abroad will require proof of a negative COVID-19 test. Depending on your destination, some places require travellers to prove they have tested negative upon arrival, some require proof before starting their trip and some destinations require a mid-trip test to ensure a continuous negative result. Always check the destination before you travel so you know the requirements.
Selective Travel Management are here to support you in returning to travel. If you have any questions on any of the above information or simply require some guidance or advice, get in touch with our team of experts today.
---
If you would like to have your Business Travel Simplified, then speak with a member of our team on (028) 9038 9007 or email hello@selective-travel.co.uk