News

---
Return to Travel in 2022
Return to Travel with Selective Travel Management
As we continue into 2022, there is an air of positivity surrounding the pandemic. The travel industry is beginning to bounce back with many governments around the world pulling back on restrictions, suggesting we are now entering the end stages of the pandemic (endemic). International borders are slowly reopening with the USA leading the way back in November 2021, Australia from 21st February 2022 and New Zealand from 13th March 2022.
Whilst this endemic stage is proving to be a positive force on the travel industry and the economy, we must remain cautious of new variants forming and continue to utilise the hygiene practices and vaccination programmes formed during the pandemic to enable recovery throughout 2022.
Things to consider when returning to travel:
Travel Policy
As your company begins to implement business travel once again, you must consider your Corporate Travel Policy and whether this meets the requirements for travel in a post-covid environment. If your travel policy has not been updated since before the pandemic, it should be revised before your employees begin travelling again. New Duty of Care and safety obligations must be met along with any new technological advances and methods of cost-saving available within the travel landscape.
At Selective Travel Management, your Account Manager can help adapt your Travel Policy to suit your company's requirements and can advise on best practices to improve your managed travel programme.
Risk Management
As with your Corporate Travel Policy, you should carry out regular risk assessments before sending employees on company-related travel. You should consider the country you are sending them to, the current restrictions and entry requirements, the level of infection, and whether the reason for travel warrants the risk involved. Employees must be provided with PPE and other safety means to ensure a safe and risk-free journey.
At Selective Travel Management, our team of experts are knowledgeable in matters of risk and can provide guidance on country restrictions and the requirements for travel.
Travel Requirements
Whilst covid restrictions are continuing to be eased around the world, a number of travel requirements remain in place and will continue to do so for the foreseeable future. It is always best to check individual restrictions and requirements before travelling as these are constantly changing and vary by country.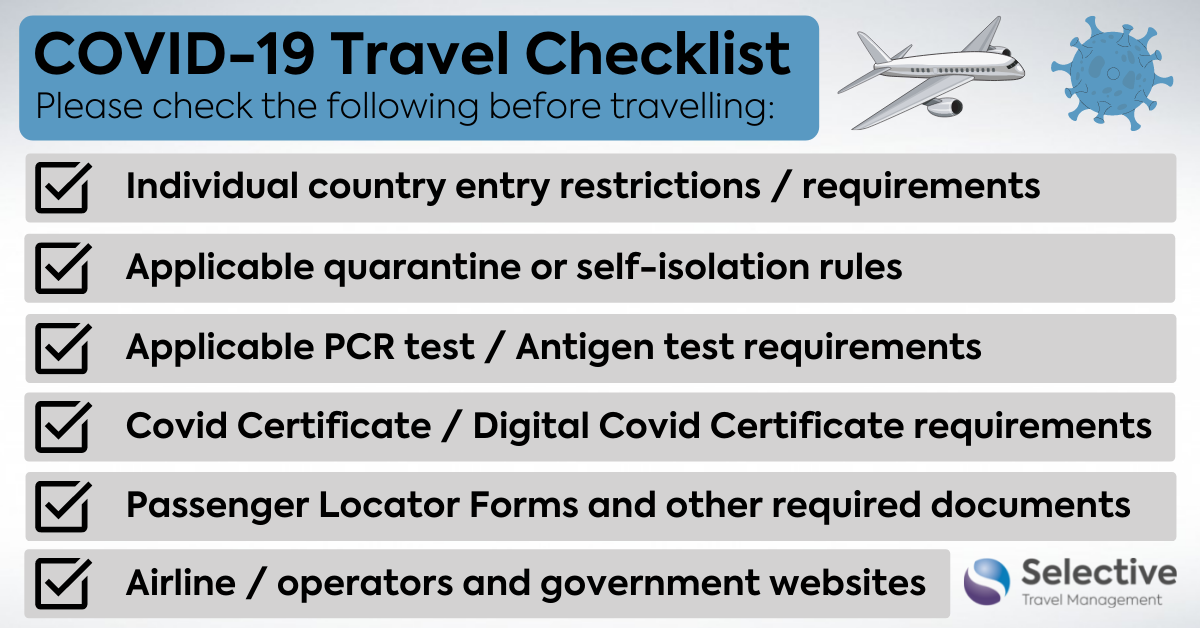 If you are confused about the requirements for travel, get in touch with your Dedicated Team who will be more than happy to help guide you through the process.
Tips for returning to travel:
Allow yourself extra time to pack and make sure you have all the required documentation to travel (visas, covid requirements etc.)
Allow yourself extra time to get to the airport and to make your way through security. Queues may be longer and can take more time due to documentation checks
Remember to bring a mask for public transport (requirements vary by country/operator)
Be aware that flight schedules may change unexpectedly or last minute
Check out our Return to Travel Guide for more information
Selective Travel Management are here to help guide you through a safe and seamless return to travel. If you have any questions on any of the above or information or require some guidance, get in touch.
---
If you would like to have your Business Travel Simplified, then speak with a member of our team on (028) 9038 9007 or email hello@selective-travel.co.uk