News

---
Travel and Technology Trends For 2021
How Travel Will Make a Comeback in 2021
2021 marks a major change in the world of travel after the impact of both COVID-19 and Brexit. With much of global travel having come to a halt in 2020, this year will see the travel industry attempting to get back on its feet and move forward with vaccines on the horizon. With many new travel requirements and a loss of consumer confidence, how will the travel industry pick up where it left off?
1. 'Staycations'
Much like 2020, the power of the 'staycation' or 'vacation at home' will play a large part in people's travel plans for 2021. With over half (53%) of global travellers claiming they won't be comfortable travelling until a Coronavirus vaccine or treatment is in place (Booking.com), many are taking advantage of holidaying at home and exploring the world that lies on their doorstep.
This also applies to domestic travel, with Visit Britain forecasting that domestic tourism will increase by 79% compared to 2020.
Whilst this might be the case for some travellers, others are dreaming of quite the opposite with big holidays and 'Bucket List' trips planned for 2021. With 2020 being the year of no travel, people are finding a new appreciation for what was once a normal part of our daily lives and are keen to make up for lost time when travel returns.
Our most recent survey found that when travel restrictions have been eased and there are reduced levels of COVID infections, 38% would consider travelling in 0 - 3 months and 44% in 3 - 6 months compared to only 8% in 6 - 9 months, 6% in 9 - 12 months and 4% in over 12 months.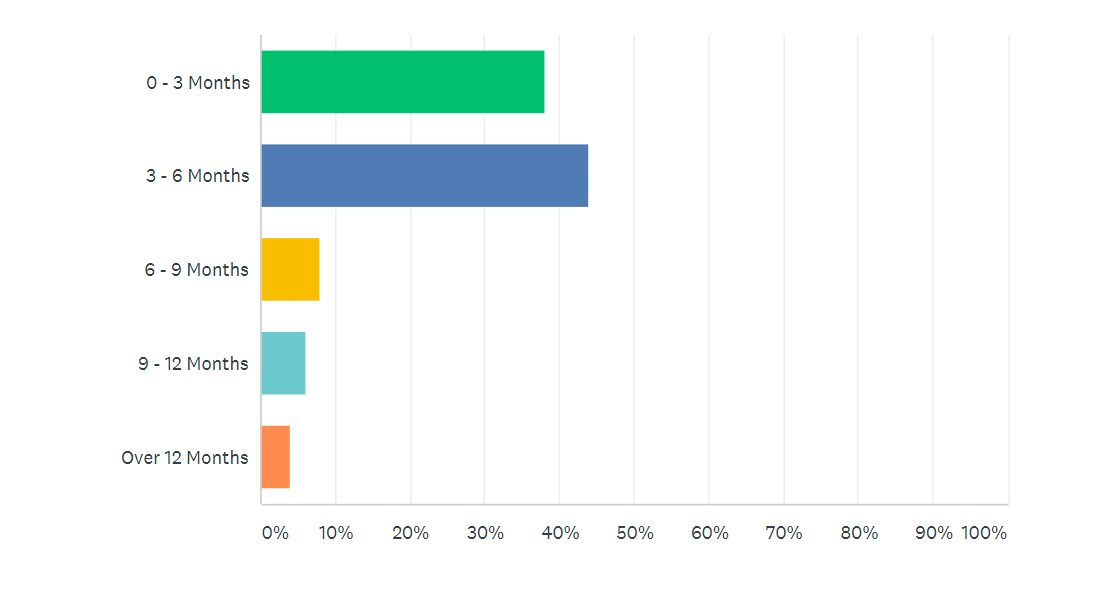 2. Working From

Home

Anywhere
With around 60% of the UK's adult population working from home at the height of the pandemic (Finder), how we work and travel for work has changed drastically. With new technologies such as Zoom and Microsoft Teams making it possible to work remotely, many have taken the opportunity to 'work from anywhere' with countries such as Barbados, Dubai and the Cayman Islands offering a 'digital nomad visa'.
The trend of 'Bleisure' has reached new heights when all that is required to work from paradise is Wi-Fi and a webcam. In line with this, 2021 will see travellers taking longer trips with many hospitality sectors offering reduced rates and switching business models to long-term stays.
But what does this mean for the future of business travel? Many articles have suggested that new technologies reduce the need for business travel and whilst these methods have been both beneficial and crucial during these unprecedented times, they are just that – methods for a time of crisis.
Basic human instinct shows that we have a need for social interaction and therefore, whilst there will be caution in the months ahead, as a species we will yearn for physical interaction when conducting meetings, discussing business proposals, meeting new clients, and developing new markets.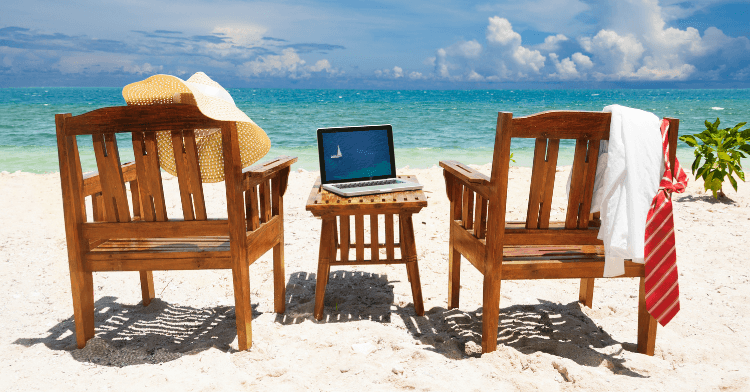 3. Duty of Care
The coronavirus pandemic has turned the travel industry on its head, with factors that were once not as important such as health, hygiene and safety now becoming the new currency for customer trust.
According to Amadeus, 40% of travellers now say they favour airlines, airports and hotels with higher safety standards; whilst our recent survey found that the most important factors to clients Post COVID-19 are Traveller Risk/Duty of Care (60%), Price (20%), Direct Routes to Minimise Time Travelling (16%), Customer Service (2%) and Insurance/Cancellation Policies (2%).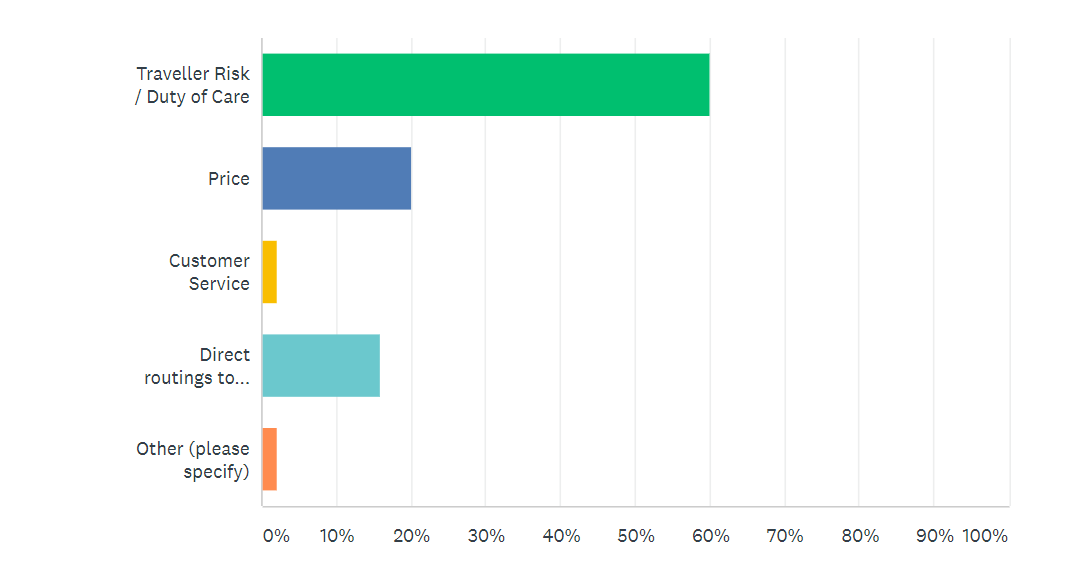 Whilst price and customer service all remain important factors, this information suggests that above all, travellers will move forward by choosing companies that have a duty of care obligation to their customers and place an importance on traveller risk and safety.
At Selective Travel Management, we have been working on enhancing our duty of care obligations to include:
Improved COVID information hosted on The Hub
COVID-19 education for all staff via our internal Learning Engine
Added COVID data provided on all booking confirmations
New Risk Platforms to enhance the two-way communications during flight disruptions, incidents etc.
We also offer other technology solutions year-round to include Traveller Tracking, Traveller Profile Suite, Travel Alerts, and Real-time Client Feedback on our emails.
4. Technology
In a recent survey by Amadeus, more than 4 in 5 travellers said technology would increase their confidence to travel within the next 12 months.
With that in mind, we have been working on developing our own technology offerings and are planning to implement a mobile app in 2021 to include mobile itineraries, risk management, reporting and automation and service management. Last year we saw the introduction of our online reporting tool 'Trends', which displays a wide range of unique data for our clients combining Online and Offline bookings to Total Spend and Types of Travel.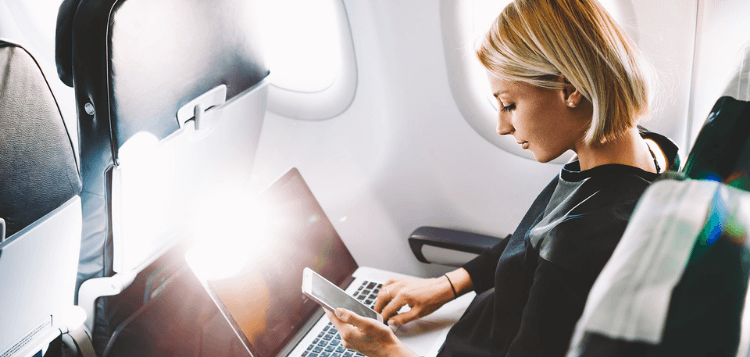 With the spread of COVID-19 increased by contact, many airlines and airports have adopted touchless technology with contactless check-in and biometric gates at boarding.
New requirements are also in place for those travelling on airlines and throughout airports, which include but are not limited to:
Reduction in Passenger Numbers
Need for a negative Covid test result before travelling
No Food or Drink in Airports / Onboard Aircraft
Provision of Hand Sanitiser & Disinfectant Wipes
Social Distancing
Wearing Face Masks
Temperature Checks
Quarantine on Arrival
Health Passports
COVID-19 testing at airports is also on the rise with 2 testing facilities now open at Dublin Airport and a range of different testing facilities at London Heathrow. 2021 will see testing facilities being implemented into most airports with the aim of getting rapid results prior to travel.
We have partnered with Randox to make COVID-19 testing easier for clients who wish to travel to and from the UK. If you intend to travel and require a COVID-19 test, it costs £99 and can be booked by Selective Travel Management at the point of booking or after to save you any hassle. There are 5 test locations in the UK to choose from, including Belfast International Airport.
More information can be found here.
5. Sustainability
As with 2020, sustainability and the environment remain an important topic for future travel. With a mass grounding of flights during the peak of coronavirus leading to a reduction in aviation emissions by 60% (BBC), many people are concerned that when travel resumes, the harmful impact on the environment will continue to worsen.
Whilst it is not possible for the halt in global travel to continue forever, there are ways in which we can reduce the negative impact on the environment and improve on sustainability.
As an ethical supplier, we provide carbon friendly options and will support you in achieving your carbon targets through a range of reports, all of which conforms to DEFRA standards. We have also recently gained new accreditations for ISO 14001 (Environmental Management) and Eco Vadis to improve and develop our company sustainability.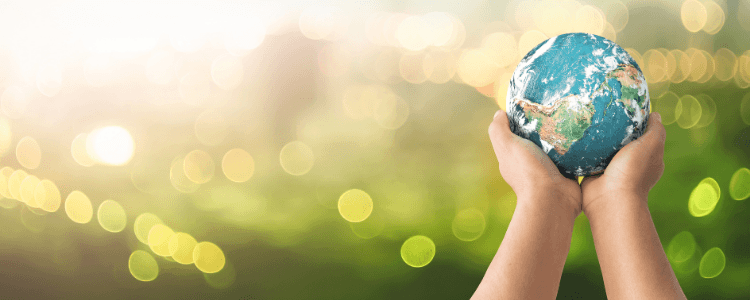 6. Travel Management Company
Whilst trends in recent years saw people switching from a service provider to self-booking, 2021 will see the return of the Travel Agent/Travel Management Company, with travellers realising just how important their services are in times of crisis.
With nearly 50 years' experience in the travel industry, Selective Travel Management has been through it all and with our team of experts on-hand to provide help and reassurance 24/7, we are with you every step of the way. From cancellations and refunds to rebooking and guidance, we can support and manage your travel from A to B, stress-free.